New mobile phones - Samsung also will soon launch two smartphones next generation of Windows Mobile-based Omnia ie Samsung Omnia Pro 4 and Omnia Pro 5. Both newfangled candybar and has a full QWERTY keyboard.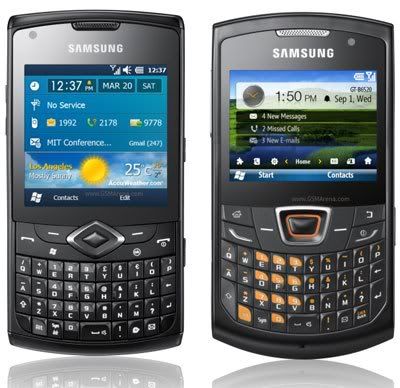 Samsung Omnia Pro B7350 4 is a sailing touch smartphone with 2.6-inch size is 320 x 320 pixel resolution and features a 3.2 megapixel camera with autofocus.
Samsung Omnia Pro B6520 5 is a smartphone which has a size of 2.4-inch landscape display with QVGA resolution and comes with 2 megapixel camera.
The rest of the smartphone has the same specifications such as using the operating system Windows Mobile 6.5.3, support 3G networks with HSDPA, WiFi, A-GPS, FM radio, Bluetooth, 1500 mAh capacity battery and microSD slot.
Samsung Omnia Pro 4 will slide in Europe and Asia in July 2010, while Samsung Omnia 5 will slide in Asia in August 2010. (Mobile88)
You have read this articleSamsung with the title Samsung Unveils Omnia Pro 4 and the Omnia Pro 5. You can bookmark this page URL http://catosays.blogspot.com/2010/06/samsung-unveils-omnia-pro-4-and-omnia.html. Thanks!
Write by:
RC
- Saturday, June 19, 2010