Mobile Software
- OSLO (SuaraMedia News) - After releasing Opera for desktop Opera 10 and Opera Mobile 5 beta, now it provides a Norwegian browser Opera Mini beta edition of 10 made-for Symbian/S60 and Windows Mobile.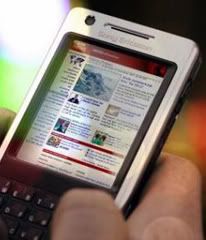 Opera as quoted by TechCrunch, Tuesday (03/11/2009), said there were some extra features in Opera Mini 10 beta. The differences are expected to almost similar to Opera Mini 5 Beta, which was released several months ago.
This new design is equipped with a host of features like speed dial, bookmarks and tabbed browsing, which makes the Opera browser in Nokia users can enjoy the surf as the desktop Opera, including in it a password manager. Different, Opera Mobile 10 beta can be optimized for mobile phones with touchscreen and style navigation buttons on your Nokia, Sony Ericsson and Samsung that runs at Symbian/S60.
In addition, the latest
Opera browser
claims is faster than the previous beta release (9.7) and even two times faster when downloading or zoom in on Web pages.
Apart from performance improvements,
Opera Mobile
Opera Turbo 10 also adopted, which is a technology that can compress the Opera artificial bandwidth, which makes loading Web pages from a mobile device faster and cheaper.
Previously, mobile data traffic globally continue to soar in September, according to Opera it can make a save state spending. How come?
According to a survey conducted Opera, by selecting browsing via mobile bandwidth, which in the barbershop could reach 90 percent, especially after the Opera Mini users have increased 8.7 percent from August to September. Of course this can make banwidth saved more, which ends a lot of state money could be saved
In fact, in a statement quoted by Reuters Opera, there are 10 countries that could save financially to USD8.1 billion per year or approximately Rp.8 trillion, because many Internet users are switching to using mobile devices to surf in cyberspace.
Moreover, the mobile internet market has increased considerably since 2007, when first introduced to Apple through the iPhone. Since then all the producers are competing to develop a handset that focuses on Internet usage on mobile phones.
Interested operators to increase revenues from Internet browsing and social networking are increasingly booming as revenue after the traditional revenue through voice calls continues to decline.
The report also mentions the Opera has 35.6 million users of Opera Mini browser which all access the internet through the Opera servers which produces 227 million megabytes of data traffic for operators around the world during September and
Inevitably, this makes the
Opera browser
more superior than the iPhone in recent months, the market share of 26.9 percent during October. [www.suaramedia.com]
Previous Post
motorola-close-heart-create-windows
You have read this articleMobile Software with the title Latest Opera Mini Comes To Symbian & Windows Mobile. You can bookmark this page URL http://catosays.blogspot.com/2010/05/latest-opera-mini-comes-to-symbian.html. Thanks!
Write by:
RC
- Saturday, May 1, 2010