New Mobile Phones
- Good news for Nokia lovers.
Now Nokia E72
comes with a white color. In addition, the latest firmware update also joined immersed.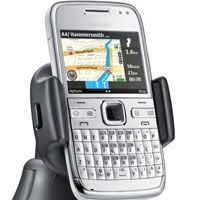 The news got 'detikINET' from Nokia's official blog, on Friday (30/04/2010). In addition to color ddan comes with new firmware, some new accessories like Nokia BH-216 bluetooth headset and the Motorola C-313 was also added jeweller.
Advanced smartphone E71, will be wrapped in white color on his body, except the navigation touch screen is still black. Nokia also put new themes in it.
White
Nokia E72
also comes with some software update. Among them, the latest version of OVI Map with free navigation, the addition of location-sharing feature on facebook and weather forecasts. This update can be obtained, via the Nokia software updater at 14MB.
For information, the latest firmware update
Nokia E72
is a lot of users complained. Smart phone because it so often to restart itself. Maybe Nokia intend to 'patch up' the gap.
Nokai E72 white edition, will be launched in Malaysia, Thailand, Vietnam and Singapore. Just wait for its presence in Indonesia. (Fw/Eno)
Tags:
You have read this articleNokia Phone with the title Nokia E72 now White Color. You can bookmark this page URL http://catosays.blogspot.com/2010/05/nokia-e72-now-white-color.html. Thanks!
Write by:
RC
- Monday, May 3, 2010