Nokia will launch new smartphones to close the distance with the other competitors. Although Nokia is still the global leader in smartphones, the competition is very tight in the expensive segment with his opponents, such as Apple's iPhone and Research in Motion's BlackBerry.
The chief executive of Nokia, Olli-Pekka Kallascuo, acknowledged that Finland-based company has "a lot of work done."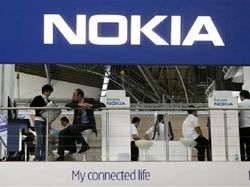 "This year, Nokia plans to introduce the latest generation of devices is expected to close the distance with its competitors in the advanced mobile market," he said.
Nokia boss was speaking in response to the Finnish media speculation that he will be forced to resign by the company, because it has experienced a decrease in the fight against their competitors.
Chairman of the Board 'Jorma Olla' agree that last year was the year that is not satisfactory. But speaking at the annual meeting of shareholders "the board supports the company's management" in their business strategy.
The Part of Nokia have declined last month, after the results are not as expected. Nokia anticipates the latest high-end mobile phones that will be sent more quickly than one might imagine.
Kallavuo also explain the Symbian operating system used in most Nokia phones are not regulated the same as their competitors. But the company said "fix this factor as to what we were talking about" and added that these devices not be a leader in advanced smartphone.
Kallasvuo said that 83 million users worldwide have registered as active users of Nokia mobile service, but will continue to develop these sectors. "We worked hard to reclaim the leadership in the most sophisticated smartphones and mobile computers," he said.
It is important to develop a consumer's experience with the device capabilities and services. "Kallasvuo described the new model as" new generation "of a device. However, he only gave few details. [Ito]
You have read this articleiPhone / Nokia Phone / Phones info with the title Overcome iPhone, Nokia Prepare Secret Products. You can bookmark this page URL http://catosays.blogspot.com/2010/05/overcome-iphone-nokia-prepare-secret.html. Thanks!
Write by:
RC
- Friday, May 7, 2010