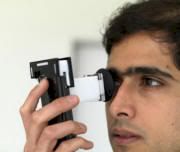 Collection of scientists from the
Massachusetts Institute of Technology
(MIT) in the United States, developing an iPhone application that can be used to examine the eye.
Application called
Near-Eye Tool for Refractive Assessment
(Netra) serves as a means of eye health tests, diagnosing, and give advice needed glasses.
Ramesh Raskar of MIT said, Netra, developed with the team this is an eye-detection tool that is pretty advanced, easy to use and affordable.
Enough patients to test their vision by gazing at a pair of small plastic lens on the iPhone screen. Such tests carried eight times for each eye. Then, the application will analyze the results and display the recipe or the best advice in just minutes.
In these tests, the patient pressed the button to match the color of a series of positions until they overlap. The more often they pressed the button, meaning that the worse the level of their eyesight.[ligaponsel.com]
You have read this articleiPhone / Mobile Software with the title IPhone Application to Eye Check. You can bookmark this page URL http://catosays.blogspot.com/2010/07/iphone-application-to-eye-check.html. Thanks!
Write by:
RC
- Saturday, July 3, 2010