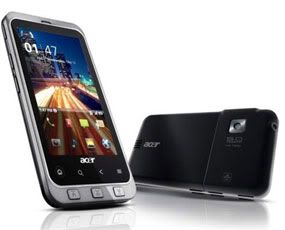 Jakarta - After a series comes with Liquid E, Acer again brings new Android phone called
Acer Stream
. In contrast with Liquid E, Stream is intended for high-end market. With the presence of these products, Acer as a new player in the smartphone market so much more mature.
Comes with Qualcomm's Snapdragon 1GHz processor and 512 MB RAM, this product became one of the best Android phone is currently owned by Acer. Additional element in the form of 2 GB of internal flash memory makes it suitable to download a variety of applications in the Android Market.
Judging from his OS, by default Stream is still using the Android version 2.1 (Eclair). But in recent months,
Acer Stream
can be increased to the Android 2.2 (Froyo). At first glance, when observed product design is similar to the HTC Desire, if the Acer logo in the center is closed. In general, this phone looks very solid and thin.
Talking about HTC, the Taiwanese vendors have a User Interface (UI) that is very captivating called Sense. Well, apparently Acer is not to be outdone by HTC Sense. Besides having built-in Android UI,
Acer Stream
comes with a 'UI' of it own called the Acer UI 4.
You have read this articleOther Gadget with the title Acer Stream, Android top of Acer. You can bookmark this page URL http://catosays.blogspot.com/2010/10/acer-stream-android-top-of-acer.html. Thanks!
Write by:
RC
- Wednesday, October 27, 2010