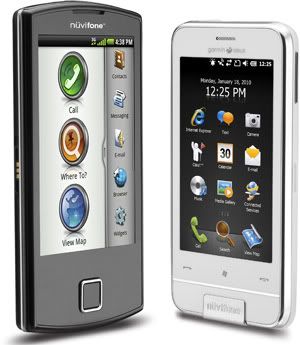 Asus released a new smartphone called Garmin - Asus A10 and A50. Each phone is armed with a map application that is claimed to be easier for users to navigate
Both phones Android 2.1 is the second series as well as the last series of the collaboration Garmin - Asus. The reason, Asus decided to 'divorce' Garmin changed the concept of their cooperation.
"Yes, this is the last phone that uses the name Garmin - Asus. But that does not mean that our partnership is over, cell phone in the future Asus will also continue to use Garmin applications only his name would be different," explained Willy Halim, Indonesia Country Manager of Asus, at the Four Season Hotel on Wednesday (10/27/2010).
A10 and A50 pocket sized, has a multi-touch LCD screen measuring 3.2 inches (A10) and 3.5 inches (A50), the camera auto-focus 5 megapixel (A10) and a 3.2 megapixel (A50). In addition, both phones are also equipped with 4GB of internal memory, 512MB RAM (for A50, 256MB RAM) to do the work documents, multimedia files and applications. A10 and A50 also features a database of points of interest (POI); provide real-time, about the weather, fuel prices, availability of parking, movie showtimes, public transport, and others.
These services can be accessed directly through the function of 'click and go'. Connected Services provided include TrueLocal Local Search, Panoramio, Ciao, Flight Status, Converters, Fuel and Free Map Updates.
A10 and A50 are integrating Google's mobile services with access to Google Maps, Gmail, Youtube, Google Talk, calendar, contacts and Android Market, where users can find thousands of applications for their phones.
With 510 MB of memory dedicated to applications, simply to accommodate more than 400 applications. A10 and A50 also supports Wi-Fi that allows users to access the Internet anywhere and anytime.
For A10 and A50 are, Garmin, Asus also took SingTel to deliver the best network quality for the sake of convenience in mobile internet. A10 and A50 smartphone buyer will get a prepaid card that is equipped simPATI Freedom free access to 1.2 GB of data for 6 months, with the minimum requirements refills 50,000 every month.
Prices for the A10 is Rp.3.799.000, while the A50 is Rp.3.499.000.
You have read this articleOther Gadget with the title Garmin - Asus Released Smartphone Android Navigation. You can bookmark this page URL http://catosays.blogspot.com/2010/10/garmin-asus-released-smartphone-android.html. Thanks!
Write by:
RC
- Wednesday, October 27, 2010