The Nexian Android Phone
The presence of
mobile phone
running Android bersistem indeed quite help companies that are dying due to global crisis. Call it the Sony Ericsson SE X10 re-emerged from his, then Motorola. Seeing this, the local vendors are also looked at this free OS. For that Nexian introduce NX-A890 Journey of air Android OS 1.6.
Nexian introduced the
NX A890
at the ICS 2010 (Indonesia Cellular Show) held at JCC Senayan, Jakarta. NX A890 is equipped with Android OS version 1.6 is known as the Donut. In the event the exhibition ICS, NX A890 released at a price of 2.499 million when the original price of this phone is nicknamed Journey Rp. 2.999.000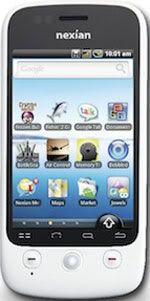 Android OS
NX A890 is not the first local brand mobile phone Operating Systems adopting Android. But NX A890 sort of serious local vendors to sell Android phones berOS this. How not, NX A890 equipped with Android OS 1.6. but Android Version 1.6 is not the latest version of Andoid. Because now there are Android Version 2.1 adopted by Acer.
5 MP camera
NX A890 is equipped with a
powerful 5 MP camera
. But the quality of the cameras that are served by the A890 NX is like a mobile-phone china magnitude 5 MP. Hnaya just because Android 1.6 is supported by the OS create the images NX A890 easier to upload to social networking sites.
Design
NX A890 designed by nexian resemble other Android phones. The reason it has become a full Touchscreen grip of Android phones. It had been so, NX A890 wrapped with white color that describes the impression fashion.
Processor
NX A890 armed by the processor that comes from the manufacturer Qualcomm. As a result Qualcomm MSM7227 pinned neatly inside the NX engine A890. Not quite up there, NX A890 processor has a speed of 600 MHz. so that NX A890 can deliver fast and accurate computation.
NX A890 processor is supported by the memory which is divided into 2. For RAM, NX A890 using 256 MB. While ROM, NX A890 uses 512 MB. With such high speeds will be presented by
NX A890
.
Connectivity
NX A890 HSUPA network serving 7.2 MHz to 3.5 G network for these mobile users can conveniently access broadband purposes. It had been so, NX A890 also has the E-Compass to show directions when walking.
If it is still lacking, NX A890 also describe the GPS to show the way for knowing the location of destination. It had been so, NX A890 also has wifi which facilitate us to enter into the world just by looking virtual places hotspot
Conclusion
NX A890 is the first Android phone nexian worth 2.999 million. 5 MP camera can accompany you to mengabadika every moment that was experienced. It's been so Nexian also supported by Qualcomm MSM7227 processor speed 600 MHz.
Odie
Technical Specification
Network: Quadband GSM 900/1800/1900/2100 MHz
Design: Candybar Phone
Display: Capasitive Touch Screen 3.2 Inch TFT LCD, 320 x 240 Pixel
Broadband: HSDPA 3.6 Mbps HSUPA 7.2Mbps
Memory: Micro SD up to 8 GB
Processor: Qualcomm MSM7227 with ROM 512 MB, 256 MB RAM.
Features: 5MP Camera, Universal Charger, Mp3 Ringtones, Blacklist, E-book Reader, Electric Torch, (lamplight), FM Radio, Audio player mp3, Amr, wav, Video Player mp4, 3gp, Sound Recorder, EDGE, Ebuddy, Facebook , E-Compass, GPS, WiFi, G-Sensor, Google Mobile Services (Android Market, Google Maps, Gmail).
You have read this articleAndroid with the title Smart Phone Nexian A890 (Nexian Journey) review. You can bookmark this page URL http://catosays.blogspot.com/2010/10/smart-phone-nexian-a890-nexian-journey.html. Thanks!
Write by:
RC
- Thursday, October 14, 2010