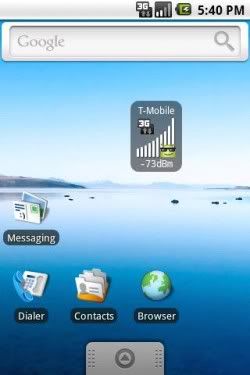 For those who live in areas with
poor mobile phone signal
, it may be useful to install the application widget that can check the signal strength on the Android phone is used.
This is not an application that can be invoked, but the form widhet that will always appear on the screen Android phone is used. To call this widget we can do it by: Menu-> Add-> Widgets-> Widget Mobile Signal.
To prevent signal display widgets Feexe (frozen), add the command "
SignalWidget $ UpdateService
" on the list task killer exclude lists. This widget application can be downloaded for free at Android Market pages.
You have read this articleOther Gadget with the title Widget to monitors signal strength for Android. You can bookmark this page URL http://catosays.blogspot.com/2010/10/widget-to-monitors-signal-strength-for.html. Thanks!
Write by:
RC
- Friday, October 22, 2010