BlackBerry Storm 2
After lauched the
BlackBerry Onyx
, BlackBerry launched its newest product is the BlackBerry 9550 or commonly called Odin Storm 2. BlackBerry 9550 Odin, is the successor of the BlackBerry Storm 9500 (Storm's first generation). BlackBerry 9550 Odin certainly much improved from its predecessor as to have a larger internal memory and is equipped with Wifi.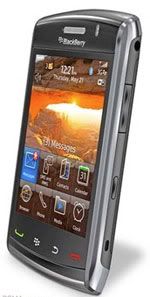 If visiting more deeply, the Blackberry Storm 2 new bears several advantages not present in previous versions. In terms of appearance hardly much different except for changes in key sectors which together with the screen. Touch screen but still relies on capacitive technology with Sure-press controls that improved its ability.
Glossy material that polish this smartphone makes it appear more luxurious than its predecessor. Key positions that are part of the screen consists of three options namely the call button, the BlackBerry button, Back and end calls supported Sure-press controls. So all parts of the screen plus another button integrated with one another without any special insulation.
Operating Systems
Blackberry Storm 2 or Odin that we tested was equipped with the latest Blackberry OS version 5.0.0.320 (platform 4.2.0.124). The most interesting part of this OS is its support for saving performance Lithium-ion Battery 1400 mAh become more efficient or not wasteful. Also affect the display sector, which now form the windows no longer a drop down menu plus access that is faster than the first Storm.
Memory
In data storage, Odin provides 2GB of internal memory with a capacity of flash memory plus 256 MB. Comparing with previous Storm just 1GB flash memory with 128 MB. Other than that, they both provide an external memory slot for MicroSD.
Camera
Unfortunately, the ability of the camera is still the same as the previous version. 3.2 megapixel camera only classmate who accompany you. But completeness is quite good such as autofocus, flash, iImage stabilizer and a few special settings. But the result is quite pretty well indoor or outdoor use, but still less than the Blackberry 9700 Onyx.
Operation
As in previous versions of Storm, which is equivalent Odin screen TFT display 65,536 colors 480 x 360 pixel resolution with a 3.25-inch diagonal. Large relative to size and comfortable to use touch screen mobile phone. With a UI that is sensitive to capacitive type touch of a finger belonging intuitive. Moreover, supported by Sure-press features that seemed more perfect than the first version of the Blackberry Storm. For the record, Sure-press feature on Blackberry recommend you to do a little emphasis on the screen to execute the command, typing or doing activities.
We explore several applications, it turns out the application documents on the smartphone via the trial version only Documents To Go. So you can only just open the document without any editing functions. In addition, there is provided a feature to open a PDF file. But like other Blackberry in general, access to electronic mail aliases remain a leading email service via the Blackberry Internet Service (BIS) or Blackberry Enterprise Service (BES). Also chat features such as BlackBerry Messenger, Live Messenger, Yahoo Messenger, Google Talk and so forth.
For business provided various facilities ranging from meeting schedule settings application, the alarm, word pad, storage files and others. One additional, SMS messaging feature on this smartphone can be displayed with a view like when you're chatting.
Other facilities found in the Blackberry Storm 2, among others, data cables and connectivity via Bluetooth. Not to forget the advantages previously not available in the first version of Storm that Internet access via WiFi. GPS also provides navigation via a digital map.
You can eliminate boredom by turning to music, watch video, record sound via multimedia applications, plus music player and video player in the loudspeaker.
Uniquely, via the new operating system, provided the media folder with the grid view which integrates a number of entertainment facilities in one location.
Compared to earlier versions of the
Blackberry Storm
, Odin has many advantages that can be relied upon start of the touch screen is more advanced, the availability of Wifi to access GSM CDMA services as well. However, it seems in terms of design, capability and features can still be relied upon to attack the dominance of the iPhone or the HTC touch screen smartphone sector.
PLUS: capacitive touch screen technology plus Surepress, 7.2 mbps HSDPA, EV-DO 3.6 mbps, GPS, Wifi, a new generation of BlackBerry OS Cons: Design is less attractive, minimal innovation multimedia, office features (editing of digital documents) are limited
Excess BlackBerry 9550 ODIN (Storm 2)
a. 3.25 inch wide touch screen using capacitive touchscreen technology and sure-control press.
b. Glossy material on the front shows the impression of a luxury phone.
c. Equipped with the latest BlackBerry OS version 5.0.0.320 (Platform 4.2.0.123).
d. The ability to access the menu faster than its predecessor.
e. Provides two high-speed jaur HSDPA 7.2 mbps.
f. Its 3.2-megapixel camera is equipped with autofocus capability and a flash light.
g. Music Player has an innate ability to display ID3 tags support.
h. Quality sound through two speakers located above and below is good enough, as evidenced when the voice on the set of maximal unbroken voices
i. GPS has been available.
j. The internal memory is larger, ie up to 2 GB and 256 MB of flash memory.
Lack of BlackBerry 9550 ODIN (Storm 2)
a. Materials glass on the front cover of a dirty easily affected by fingerprints.
b. No divx support.
c. Virtual keyboard interface.
ee Documents To Go provides only a trial version.
You have read this articleBlackberry with the title BlackBerry Storm2 (9550) review -New Mobile. You can bookmark this page URL http://catosays.blogspot.com/2010/04/blackberry-storm2-9550-review-new.html. Thanks!
Write by:
RC
- Monday, April 19, 2010