Jakarta - Unlike
China's mobile phone
, most of the launch of "
smartphone oPhone
" by China Mobile to steal a lot of attention. This Android based phones will be able to tackle even considered selling the Apple iPhone in China.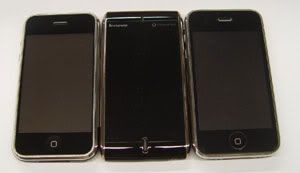 If oPhone was valuable cheaper released into the market, then handset with the Android OS will be a serious competitor for the iPhone business. oPhone Google's Android software has advantages that are designed to function like a computer, without increasing costs vary with the iPhone, which has an expensive design.
Not only that,
China Mobile
also design their own interface very similar to the iPhone touch screen interface. No wonder if consumers will not find a noticeable difference between the two.
But the hardware required to run a strong but efficient. One benefit is Marvell Technology, a manufacturer of communications chips. Company based in Santa Clara, California had claimed to have succeeded in entering into dozens oPhone radio chip China Mobile.
Weili Dai, Marvell founder and head of computing and consumer business unit the company said radio chip Marvell develop TD-SCDMA mobile phones over the past two years working with China Mobile in the process.
This company is the only one who can enter TD-SCDMA radio into a single chip. It will be the price of smartphones in the coming year bias under U.S. $ 100.
"As the only provider of silicon solutions that seek to do this we are very committed," said Dai who was born in Shanghai and now has a development center with 700 employees.
China's 3G network currently experiencing metamorphosis, where debates happen better oPhone or iPhone? The problem had become a topic of interest in China. iPhone can only be used by customers of China Unicom Ltd., which brought the WCDMA network. On the other hand, oPhone supported China Mobile Ltd. and to use TD-SCDMA network.
China Mobile design with Lenovo Group Ltd. oPhone. Although it looks similar to the iPhone, oPhone equipped with their own operating system (OMS, Open Mobile System) is based on Google's Android platform.
China Mobile has invested in the handset's 3G services, including Fetion, CMMB, GPS, and mobile email, the oPhone. Besides mobile products stores, Mobile Market is expected to be online this month.
Mobile
Market sells a variety of applications, including games and mobile application software developed by the vendor or a private developer. The first oPhone manufactured by Lenovo Mobile are going to be in the market this September.
Although the iPhone is very successful in the U.S. and oPhone a new player in China, but did not stop oPhone to compete. Meanwhile, China Unicom as the iPhone in China licensees can not give all the applications to the iPhone and it offers its own benefits in oPhone.
When the 2G era, although China Mobile and China Unicom are both state-owned companies, China Mobile users enjoy a much better signal quality and wider coverage compared with China Unicom.
So know the final winner between China Mobile (oPhone) and China Unicom (iPhone) is interesting. But in choosing a phone, consumers in China is more focused on the exterior appearance of the existing applications in the mobile phone.
That's because China's consumer has not previously had experience with the application. But if you look at the exterior appearance only, then there is not much noticeable difference for consumers in China choose between the iPhone and the oPhone.
Therefore has the potential oPhone sold quickly. So far, China's wireless Internet customers are not accustomed to pay for video, audio, and software installed on their smartphone and it's only a secondary market for the iPhone.[inilah]
Other post here
samsung-w880-12-mp-cameraphones
You have read this articleChina Mobile with the title oPhone - China Mobile 'Kill' iPhone. You can bookmark this page URL http://catosays.blogspot.com/2010/04/ophone-china-mobile-iphone.html. Thanks!
Write by:
RC
- Sunday, April 25, 2010