After the 'explode' at the beginning of its presence by being the official App Store applications for the category number one free download,
Opera Mini
continues its success. Until now has 1 million registered is a downloadable browser application Apple users.
According to data quoted from Apple Cellular News, Monday (19/4/2010), in the last calculation was 1,023,380 recorded output device that Apple gadgets install Opera Mini.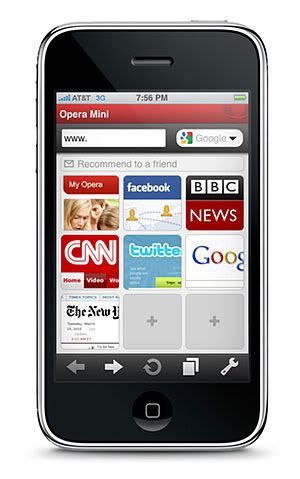 Apple had just put Opera Mini on the App Store as Apple's official application since March 23 last. And according to many estimates, users are iPhone, iPod Touch and other Apple products so waiting for Opera Mini.
"Currently, iPhone users have a choice, they can explore their internet experience and can surf with a fast, even though traffic was heavy," said Lars Boilesen, CEO of Opera Software.
Boilesen also claim to be ready to be criticized for its browsers such products. "Because with the feedback that will enhance our product capabilities and can meet the needs of users," he continued.
Previously, as many as 22 App Store that is available in various countries like UK, USA, France or the Danish controlled by Opera Mini.
It shows iPhone users 'thirst' with an alternative browser other than Safari that for this they use. Moreover, Opera Mini in the claim has advantages over compress the data so much faster internet access.(Titus/And/DTC)
You have read this articleMobile Software / Other Gadget / Phones info with the title Opera Mini Downloaded More than 1 Million Times. You can bookmark this page URL http://catosays.blogspot.com/2010/04/opera-mini-downloaded-more-than-1.html. Thanks!
Write by:
RC
- Monday, April 19, 2010