At a crowded local vendors raises Qwerty phone,
Nexian
make a breakthrough by launching the first mobile phone Qwerty cheapest Nexian NX-G522. Qwerty phone is arguably the least expensive of the other verdor Qwerty phones average price ranges Rp.900 d Rp.1 Million, Nexian NX-G522 at a price tag of Rp.599 thousand.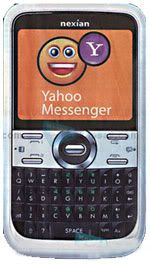 Design
The design of this phone is still like it predecessor who adopt a BlackBerry-style design which is famous for its Qwerty keyboard. equipped with a 2.4 inch 265 thousand color TFT display. And comes with attractive colors like red, yellow, white and black views of designs and colors of this mobile phone aimed at young people who like the style.
Network
This phone can run two GSM cards at once, because it has a dual facility on GSM but since this phone has been bundling with U.S. cards from Telkomsel so of course one of the card slot is in lock by the U.S. card.
Internet and connectivity
Users can use the Internet connection via GPRS channels without setting if using Jaringgan SingTel because it was the default setting of Telkomsel. If for other cards may have to manually set first. If you want to activate GPRS. With a WAP application users can use Internet services to make browsing to sites that want the visit. Bluetooth connectivity facilities and do not miss the mandatory course.
Internet Features
Facebook and social networking services like YM and MSN, to the availability of its flagship feature shortcut on the menu display. So the user clicks on the icon to stay on the menu display is able to access these services.
Memory
For there is a memory card slot and an external T-Flash is able to store files up to 8 Gigabyte, of course, the files such as music, photos, pictures and videos can be saved a lot of memories.
Multimedia Features
For facilities in camera still, using a VGA camera so be advised if the image quality produced is also mediocre, for other multimedia features like MP3 player equipped with stereo speakers, so it can produce good sound quality. FM radio is also of course, already embedded.
You have read this articleNexian with the title Nexian NX-G522 - MobileReview. You can bookmark this page URL http://catosays.blogspot.com/2010/04/nexian-nx-g522-mobilereview.html. Thanks!
Write by:
RC
- Monday, April 19, 2010