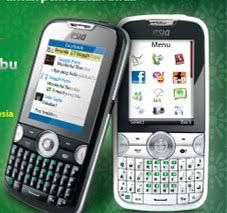 The most recent of the ESIA. After presenting Esia Musicbox, Esia my idol, and Esia My style Fm, now present the latest hp Esia C6100 series, which was named Hape Esia Online.
Hp Esia Online C6100
is planned to be marketed in January 2010. Hape
Esia Online C6100
is sold at USD 699 thousand (including VAT).
Specifications of hp
Esia Online
C6100 include: official application to chat to various social networking such as Facebook, Yahoo Messenger, Windows Live Messenger, Google Talk and Opera Mini microbrowser. It seems hp is indeed devoted to Internet use as the name suggests, Esia Online. Who likes to play on facebook, seems able to impose his choice on this hp.
MOre info about GAdget
price-of-esia-online-c6100
You have read this articleEsia Phone with the title Review - Price of Esia Online C6100. You can bookmark this page URL http://catosays.blogspot.com/2010/04/review-price-of-esia-online-c6100.html. Thanks!
Write by:
RC
- Friday, April 9, 2010