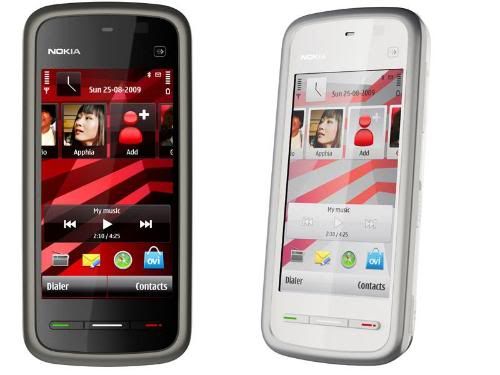 Nokia re-released touch screen phones, this product is labeled with the Nokia 5230, Nokia was no mistake at no-frills word XpressMusic behind him, just 5230 alone! because unlike the Nokia 5230 XpressMusic Nokia 5230, confused is not it? yes but it does facts.
Nokia 5230 mobile phone has almost the same shape with the Nokia 5800 even the inter-face using the touch screen, maybe this is a generic touch screen phone from Nokia. Its main feature is the existence of applications for accessing social networking sites, and has Internet access with 3G HSDPA support, sized 3.2-inch touch screen and can recognize handwriting.
Although no-frills XpressMusic, the phone is a true multimedia mobile phone that can play music up to 33 hours continuously, because the phone also has a 3.5 mm jack plug, and has 70MB of internal meory and can diperlluas up to 16GB with additional cards memory. The only thing we think menjadikekurangan this camera is the camera only has 2 megapixel relosusi but this certainly is not a problem if we do not prioritize the camera.
Data from the product specification PDF form Nokia 5230 can be read here, and the following video will show you the Nokia 5230 phone is.
You have read this articleNokia Phone with the title Video and specifications of Nokia 5230. You can bookmark this page URL http://catosays.blogspot.com/2010/04/video-and-specifications-of-nokia-5230.html. Thanks!
Write by:
RC
- Saturday, April 17, 2010